Fish Tank Stands
Fish tank stands are an integral part of your aquarium setup because the tank itself is quite heavy. For this reason, you want to be sure to buy a stand that is made specifically for your size tank, if you try to put it on a regular piece of furniture or something like a TV stand, you risk breaking the piece of furniture and making a big watery mess!

There's a fish tank stand for every type of tank but you need to keep a few things in mind when shopping for stands. First of all, size is key - you want to be sure you choose one that is the right size for your tank. Secondly, think about the style - does it go with your room's décor? Thirdly, if you have an acrylic fish tank, then you will need a stand that supports the whole bottom - glass tanks don't need the support.



Fish tank stands come in metal, wood, plastic and everything in between! You can get cabinet style stands that will also act as a convenient storage space for your fish tank supplies. If you are on a budget, consider a plain metal stand.

When choosing your stand, keep the viewing height in mind. 30 inches is the standard height for an aquarium stand, but you want to take some time to measure your room and furniture to figure out how high you need it to be for your viewing pleasure.
Subscribe To The
Fish Tank Guide Newsletter!
Products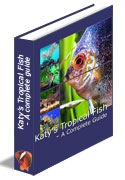 Katy's Tropical Fish
---
Hex Aquariums
Rectangular Aquariums
Cylinder Aquariums
Aquarium Supplies
Aquarium Decorations
Complete Systems
Fish Tank Stands
Fish Tank Lights
---
Articles
Which Fish Tank Is Right For You?
How To Set Up Your Tank
What To feed Your Fish
Common Fish Diseases
Selecting Fish
Aquarium Heaters
Aquarium Lighting
Aquarium Filters
Salt Water Fish Tanks
Types Of Fish
Goldfish Guide
Aquarium Snails
Fish Tank Videos