Fish Tank Video Collection


Did you ever want a fish tank but can't really picture what it might look like?

Well I've compiled a collection of fish tank videos that might help you get an idea of the kind of tank you want. You can check them out and maybe get an idea of the types of tropical fish you want or perhaps the tank setup or decorations.

..... Or just watch the fish videos for relaxing entertainment!

Here's a 125 gallon altwater fish tank with live rock :



Here's a 120 gallon freshwater with some really big fish:


Like freshwater aquarium sharks? This fish tank video is of a 56-gallon freshwater aquarium.




Subscribe To The
Fish Tank Guide Newsletter!
Products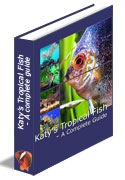 Katy's Tropical Fish
---
Hex Aquariums
Rectangular Aquariums
Cylinder Aquariums
Aquarium Supplies
Aquarium Decorations
Complete Systems
Fish Tank Stands
Fish Tank Lights
---
Articles
Which Fish Tank Is Right For You?
How To Set Up Your Tank
What To feed Your Fish
Common Fish Diseases
Selecting Fish
Aquarium Heaters
Aquarium Lighting
Aquarium Filters
Salt Water Fish Tanks
Types Of Fish
Goldfish Guide
Aquarium Snails
Fish Tank Videos