Salt Water Fish Tank Articles
Custom Saltwater Aquariums
When an aquarist determines to set up her or his own custom saltwater aquarium there are so many opportunities to create an individual and unique aquarium look.



Saltwater Aquarium Care
Here are some typical mistakes made in the care of a saltwater aquarium and the ways to avoid them.

Finding The Right Saltwater Aquarium Filter
Choosing the right saltwater filter is important, but is also confusing. There are numerous types of saltwater aquarium biological filters on the market.

Saltwater Aquarium Fish - What Not To Buy
Sometimes owners want to include a poisonous breed of fish in their saltwater aquarium. This is a difficult balance to maintain and in general saltwater aquarium fish choices should exclude these poison fish.

What You Should Have In Your Saltwater Aquarium Kit
One important kit for a saltwater aquarium is a first aid kit in case of emergencies. Here are some things that should be included in this saltwater aquarium first aid kit.

Saltwater Aquarium Lighting
Saltwater aquarium lighting is especially important if the aquarium contains corals. What type of lighting and how much is needed are determined by the type of coral used in the saltwater aquarium.

Saltwater Aquarium Setup
Before starting the actual saltwater aquarium setup the owner should plan carefully and make all the necessary purchases. There is no right or wrong way to set up a saltwater aquarium, with some basic procedural exceptions, but it's good to plan ahead before actually starting the setup.

Saltwater Aquarium Sharks
Adding a shark to a saltwater aquarium requires carefully decision on the species. Some sharks are obviously not suited to a home or office aquarium, while others are ideal.

Choosing A Saltwater Aquarium Tank
Here are some good choices in saltwater aquarium tanks. They vary considerably in size, layout and cost.

Steps For Starting A Saltwater Aquarium
When starting a saltwater aquarium there are ten basic steps the owner should follow. Keeping this in mind while guarantee that the aquarium is setup properly, that the right supplies are available and that it is kept in attractive running order and safe for the aquatic life within.


Subscribe To The
Fish Tank Guide Newsletter!
Products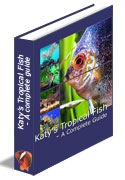 Katy's Tropical Fish
---
Hex Aquariums
Rectangular Aquariums
Cylinder Aquariums
Aquarium Supplies
Aquarium Decorations
Complete Systems
Fish Tank Stands
Fish Tank Lights
---
Articles
Which Fish Tank Is Right For You?
How To Set Up Your Tank
What To feed Your Fish
Common Fish Diseases
Selecting Fish
Aquarium Heaters
Aquarium Lighting
Aquarium Filters
Salt Water Fish Tanks
Types Of Fish
Goldfish Guide
Aquarium Snails
Fish Tank Videos